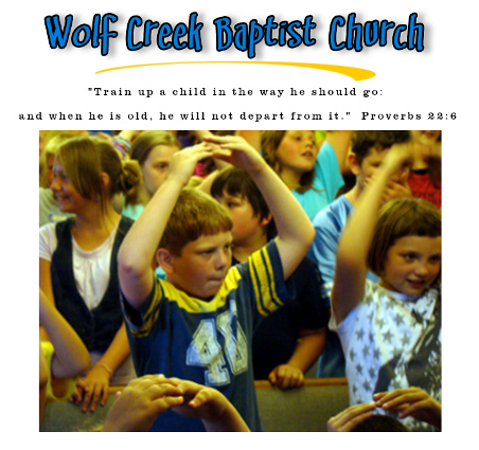 Reaching out to the Community, the Lost, and seeking God's will are what we faithfully strive to do at Wolf Creek Baptist Church (WCBC).  Our Children and Youth Ministry is very special to us.  In the past few years, the children in our Church has grown from about 10 children to averaging 60+ children and youth in attendance on Sunday mornings and 80-100+ on Sunday and Wednesday evenings.
Space has become a real concern for us, but it is a problem we welcome.  The Church has land across the road that has been slated as the grounds for a new church building.  We are faithfully in prayer for the funds needed to build a new church building and know the Lord will provide according to His will.
Our mission at WCBC is spreading the "Good News" of Jesus Christ our Lord throughout the Wolf Creek Community, the South Union Mount Zion Baptist Association, the Commonwealth of Kentucky, the United States, and around the World.
Get to know us:
View our Memory Lane Photo Gallery.
Read about our ministries.
Meet the staff at Wolf Creek Baptist.
Read about WCBC's rich history by clicking here: Wolf Creek Baptist Church 1809-2009.
Should you have a need in your life and would like us to pray for you, you can reach us via the Contact Us form on the website or by phone: 606-304-2520.  The mail address for Wolf Creek Baptist Church is 1063 Wolf Creek River Road, Williamsburg, KY 40769.