WCBC Upcoming & Recent Events!
Upcoming Events
Dec. 6, 2013 @ 7:00 P.M. Christmas Block Party with friends from Whitesburg Baptist Church in Huntsville, AL

Dec. 14, 2013 @ 5:00 P.M. at Cedaridge Ministries Inflatibles — Bro Gary Hartline and family from Alabama

Dec. 15, 2013 @ 6:00 P.M. at PVS WCBC Christmas Play

Dec. 21, 2013 @ 11:00 A.M. at Sister Rhonda's house WOW Meeting

Recent Events

Nov. 16, 2013 WOW Meeting will be held at the Church @ 10:00 P.M.

Oct. 19, 2013 WOW Meeting will take place at the Church @ 12:30 P.M.

Oct. 19, 2013 McCloud's Mountain lunch trip. Departing from Church @ 2:00 P.M.

Oct. 12, 2013 Young Children's Pumpkin Patch Trip! Departing from Church @ 1:00 P.M.

Oct. 6-9, 2013 Fall Revival begins @ 6:00 P.M. Sunday evening, Oct. 6, with Bro. Anthony Carter and continues on Oct. 7 @ 7:00 P.M., Oct. 8 @ 7:00 P.M. and Oct. 9 @ 6:00 P.M.

Oct. 5, 2013 Homecoming Singing @ 7:00 P.M. featuring Clearfork Singers

Sept. 21, 2013 WOW Meeting

Sept. 14, 2013 Hooked on Fishing

Aug 18, 2013 Special singing during morning worship service. Chosen from North Carolina will be the featured singers.

Aug 17, 2013 Women of the Word (WOW) Meeting

Aug 11, 2013 Back-to-School Sunday

Aug 10, 2013 Litter Lieutenant – "trash pickup" in the community

Aug 4, 2013 Young Children – Fun In The Sun Day! @ WCBC

Aug 2, 2013 Hooked on Fishing @ 5:00 P.M.

Jul 14-20, 2013 Team-Alex Mission Trip to Sharpsburg, KY

June 30 – July 5, 2013 - Vacation Bible School (VBS)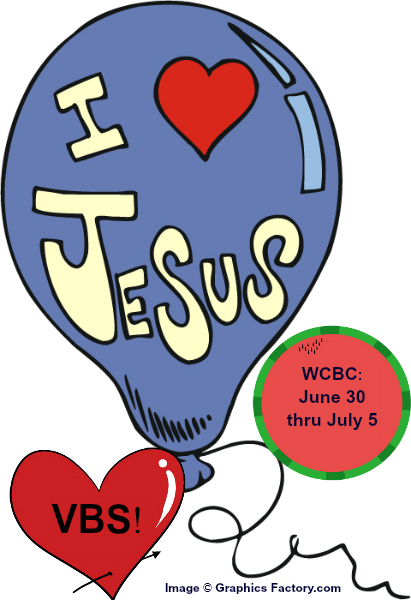 June 22, 2013 @ 5:00 P.M. – Hooked on Fishing
June 1, 2013 - WCBC Community Event: Church Building Fundraiser
View videos & photos of Community Day Event by clicking below:

Community Event Day Slideshow Videos – 1 June 2013
Community Event Day Photo Gallery – 1 June 2013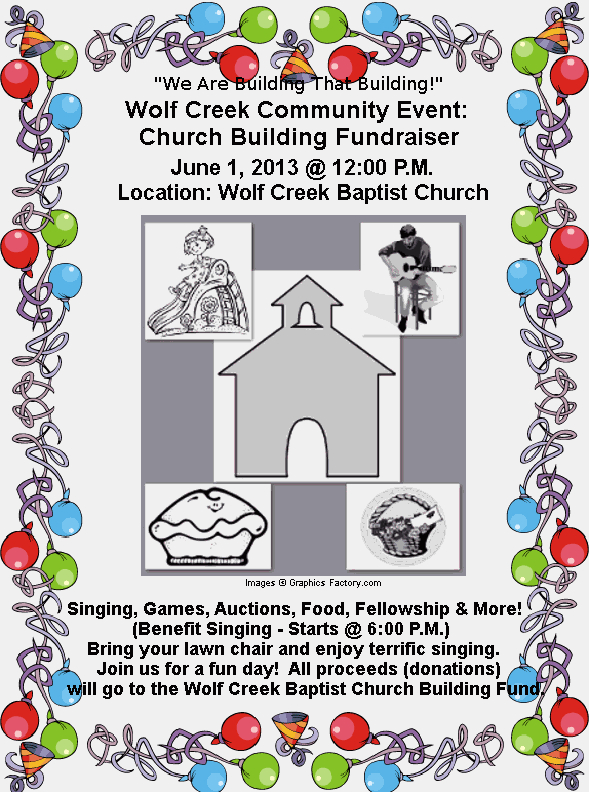 May 10-11, 2013 – Middle School Boys Camping Trip
May 3-5, 2013 – Retreat for Teenage Girls
February 16, 2013 – Community Outreach:  Williamsburg Nursing Home Visit  (View slideshow video by clicking here: Williamsburg Nursing Home Visit – 2013.)
********************************************************************************
A warm welcome is extended to you.  Wolf Creek Baptist Church (WCBC) is nestled in the Appalachians and situated in the Williamsburg, KY surrounding area.  It is a small country church that has a strong love and passion for serving the Lord.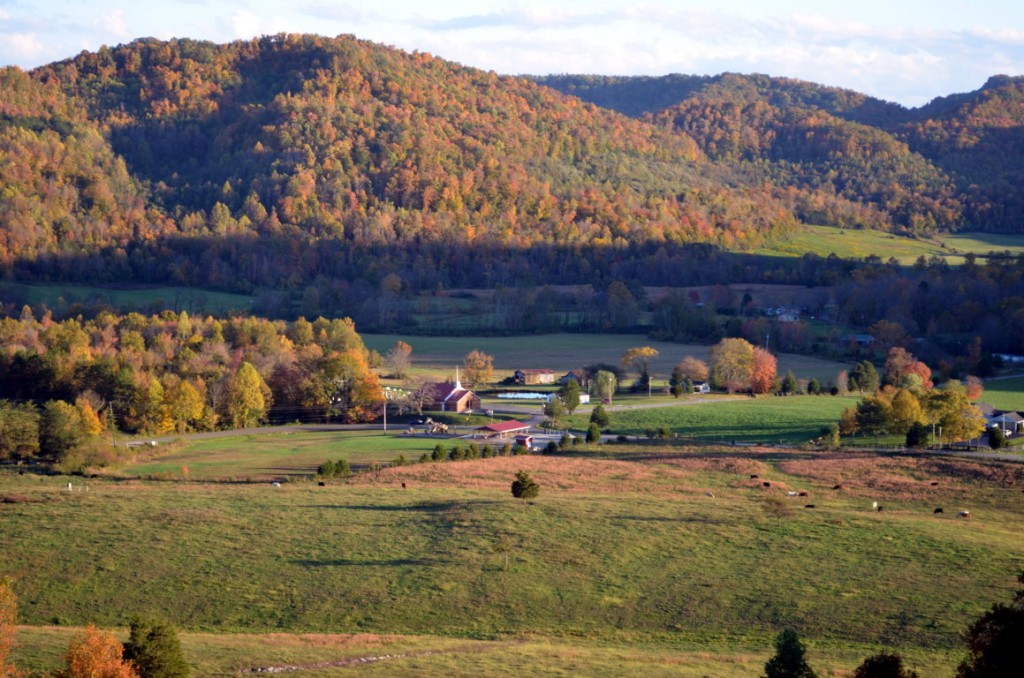 A couple of years past, our church celebrated its 200th anniversary.  It is indeed rich in history.  Today at Wolf Creek Baptist, we are faithfully continuing to build upon the cornerstone created by our founding brothers and sisters.
Everyone is welcome at Wolf Creek Baptist.  As a newcomer to the church, you can expect to be warmly greeted.  It is our desire that everyone feels right at home.
A Season of Change at Wolf Creek
"To every thing there is a season, and a time to every purpose under the heaven:" are the holy words of wisdom found in Ecclesiastes 3:1.  Several months ago, Brother John Justice felt the Holy Spirit stirring within him that it was time for a season of change in his life and stepped down as pastor of WCBC.  We will always be eternally grateful to the leadership, devoted service, and love that Brother John and his lovely wife, Peggy, gave.  They will remain forever in our hearts and prayers.  With great love the Church has bestowed the honorary title of Pastor Emeritus upon Brother John.
At WCBC, we know the Lord always has a plan.  In preparation for the season of change at Wolf Creek, the Holy Spirit had been working in the lives of two members, who obediently answered the Holy Spirit's calling and became ordained a few months back.  The new pastors at Wolf Creek Baptist are: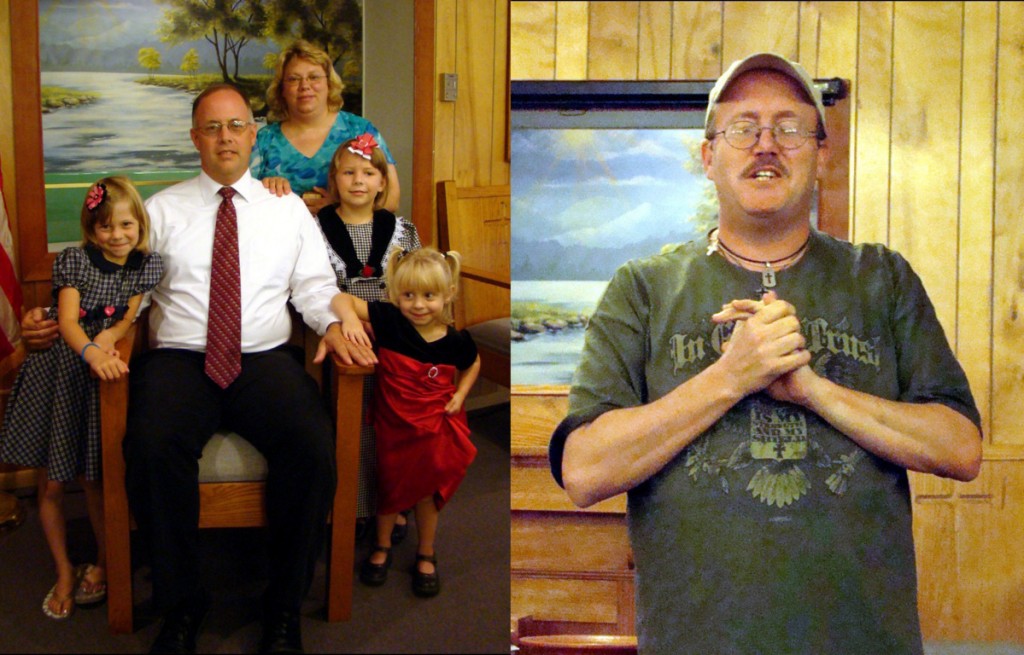 Kenny O. Carr, Pastor                                                  Tony Lawson, Youth and Children Pastor
Hard working, fun-loving, dedicated, prayerful, and faithful are words that could easily describe pastors Kenny and Tony.  Both have diligently embraced the Holy Spirit's calling in their lives and are pursuing their new roles with devotion, wholeheartedness, and vigor.
Personal Invite
If you are local to the Wolf Creek Community or surrounding area and looking for a church home, we invite you to our Church.  If you need a ride, please contact one of the following: (Daniel Bowman) phone: 786-0110, (Kenny Carr) phone: 304-2520, (Lee Schroeder) phone: 539-0068.